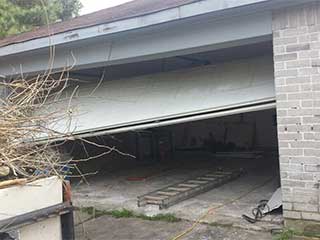 If you want to take charge of your home's protection the next time a severe storm hits, then it is essential to make sure that your garage door is up to the task. The best way to do this is to either get a wind load or impact resistant garage door, or to make the necessary improvements to your existing system. Doing so will help to ensure that your property stays properly protected the next time nature's fury hits.
To help you get started with this, here are a few ways that you can tell if your residential garage door is going to protect you as it should, or if you should be taking more steps to improve their structure.
Wind Load Rated Garage Doors
Wind load rated doors are reinforced to comply with statutory building requirements, including the Florida Building Code. These doors are typically marked with a "Wind Safe" logo, so they are easy to identify. They ensure proper protection from high-speed wind velocities and hurricanes, and that air doesn't penetrate your home during these types of storms, which may result in intensive structural damages. These types of doors are remarkably strong, so they are unlikely to be damaged even during the most severe storms. Some regular maintenance will still be prudent, though, especially after a storm has passed.
Impact Resistant Garage Doors
Impact resistance is essential for Impact Zone B homes where the danger of projectiles during a storm is relatively high. When objects are picked up and swept during a high wind storm, they may pose a severe danger of collision with your door. When choosing an impact resistant door, it is essential to not simply rely on the standard resistance they provide (roughly a 9lb board travelling at 50ft per second), but that it should comply with the needs and requirements of the area that you live in. When having a garage door installed in your home, be sure to consult with the technician about these requirements, as they may be able to offer you some additional improvements.
Upgrading Your Existing System
Having additional garage door parts that are suited to the task of providing additional stability and protection in the face of a storm will ensure that you and your home are prepared for anything. There is quite the selection of items that can be added to your current setup in order to provide it with that extra protection and stability. Reinforced door hinges, U-bars for rollers, jamb brackets to secure the door to the frame and U-bars for horizontal stability, can all be essential protective improvements.
Don't Wait Until it's Too Late
If your garage door is not quite ready for adverse weather conditions, now is the time to beef things up a bit. If you are looking to get a new system installed, be sure to opt for a solution that is either wind resistant or can withstand impacts from flying debris, and you will have an easier time keeping your home safe.
Contact our experts at Garage Door Repair Miami to make sure your door is as secure as it can be.